Mother makes kids walk for 7 km, holding sign saying they were rude to bus driver
It isn't the seven-kilometre walk, or even the cardboard sign that read, in all capital letters: "Being bad and rude to our bus driver! Moms makin us walk."
For the local Children's Aid Society, the issue is a Harrow, Ont., mom's decision to post photos of her punishing her two elementary-aged sons to social media.
In a Facebook post published Tuesday, the mother wrote she took action after getting a call from her sons' school about their poor behaviour.
"That drew the line for me! This morning we did a 7 km walk to show them what everyday will be like for them when they get kicked off the bus!" she wrote.
"2 hours later they made it!" To protect the identities of the children, CBC News is not naming the mother.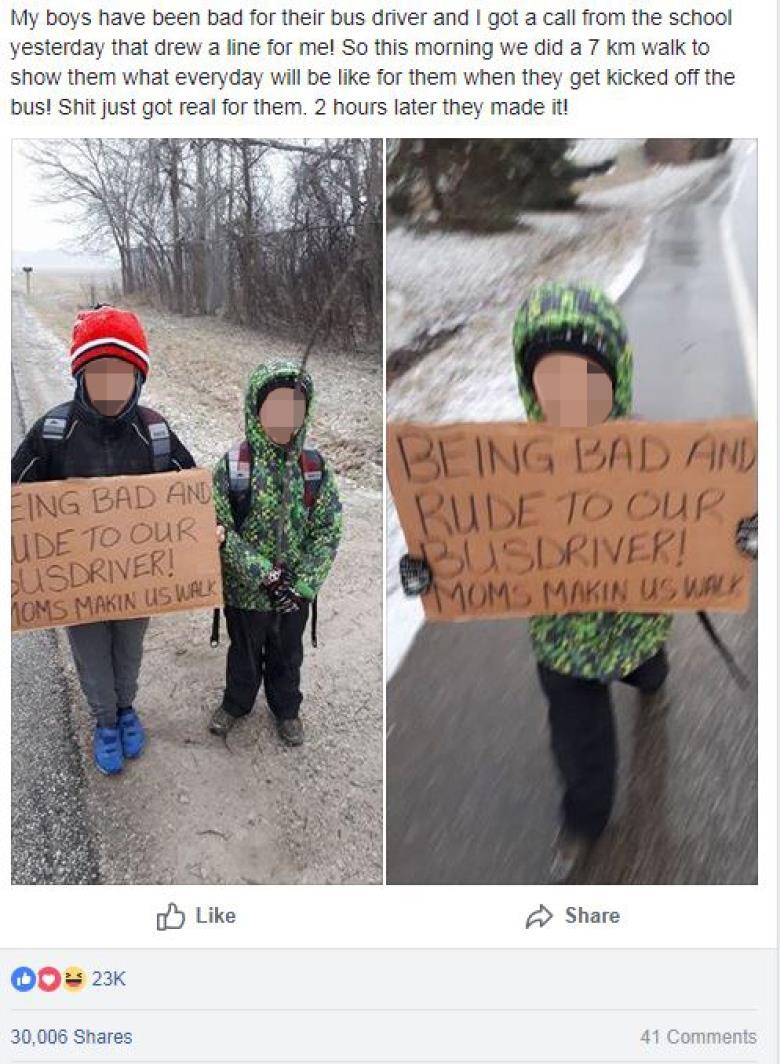 © Facebook The mother posted photos of the boys walking on Facebook Tuesday. The post has since gone viral with 30,000 shares and more than 24,000 reactions. Dozen commented in support of the mother's actions.
The post had been shared more than 38,000 times by 5:30 p.m. ET on Thursday. It received more than 28,000 "likes" and other reactions and dozens of comments, most of which seem to celebrate the actions of a "real parent."
"You re fricken rockin the mom hat girl good job," wrote one commenter.
"Awesom job mom!!" added another. "This is how you raise children."

© Facebook Dozens of people took to Facebook to comment in support of the mom's method of punishment.
The mother told CBC the older boy learned his lesson quickly, but said her younger son needed to walk a second day. She did not post that punishment to social media.
She said she received some backlash and threats after posting the pictures, so she made a preemptive call to the Children's Aid Society (CAS) herself to explain her side of the story.
Logical punishments work, shaming does not
Tina Gatt, manager of community outreach for the Windsor-Essex CAS office, would neither confirm that call nor address whether the incident merits an investigation.
Gatt did say having kids walk to school to show them the "logical consequence" of misbehaving on the bus can be a reasonable punishment — as long as there are no safety threats, and there appear to have been no threats in this case.
The mother accompanied the boys on the walk and, in the photos, are seen alongside what looks like a quiet, rural road. Harrow is a community of less than 3,000 people, about 30 kilometres southeast of Windsor.
But "shaming" them on social media is not constructive, Gatt said.
"I don't want to judge or pretend to know all of the nuances of this situation with this parent, but [it's] something to consider when we think about putting signs on kids that says what the bad behaviour is and putting them in a position where you take their picture and put it on social media," she explained.
"We would be concerned, and not just Children's Aid, we should be concerned as adults, about shaming children."
Gatt said shaming rarely works with adults and "simply is not going to motivate children to be better."
She added it's possible the mother was looking for reinforcement from her fellow parents that the punishment was just.
"For this parent, perhaps it was to get some acknowledgement from her peer group to say 'Is this right?'" Gatt said. "But just to be shaming children is not motivating for good behaviour."
You can now send letters to Santa via Canada Post
The holiday season this time has been very different. We all are sitting at home watching feel-good Christmas movies. While I was watching one, I realized how kids love to send letters to Santa and how they also hear back sometimes (in movies). Up until now I thought this is all fictional but not anymore. 
As I recently learned that you could send letters to Santa in real life as well courtesy of Canada post. As per their post on Instagram, they have launched their yearly campaign of Canada Post Letters to Santa program. They have been delivering letters to Santa for more than 40 years and have already delivered more than millions of letters!
Do people hear back from Santa?
As per reports, they apparently do. You can also write in any language and the chances are you will still hear back as the Santa team (with a little help from team Canada Post) in the North pole knows over 36 languages. 
Please be advised that the number of letters Santa receives are so high that Canada post has requested kids to write their letters to Santa before December 10 just to make sure that you get a reply from Santa as well. 
If you are wondering, how do you write this letter, then worry no more as there are templates that are available online that would help you. The next thing you do is put that letter in an envelope and write the address on the back as Santa Claus, North Pole, H0H 0H0, Canada. 
After you have done all this, you can drop it off at the Canada Post mailbox and make sure you have written your return address so that you can expect your reply. Also, fun fact, you do not need any stamps. Now, what are you waiting for? Go write that letter and pour your feelings out, remember Santa is going to be reading them.
10 Things You May Not Know About Canada's PM Justin Trudeau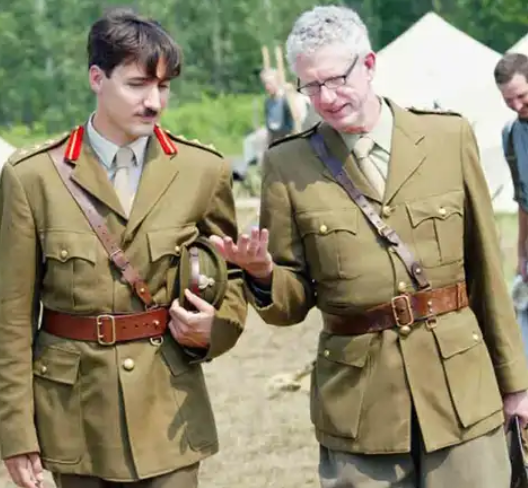 Ever since the charming Canadian Prime Minister assumed office, a lot of spotlights have been thrown on him. From rumors of being the youngest( which isn't true) to other incredible feats that he has been able to achieve. The prime minister is not just young, and handsome, he is charismatic and full of brilliant ideas. But, apart from his name and the fact that he is Canada's 23rd prime minister, I'm sure there are a lot of things that you do not know about him. Well, I thought it wise to write down 10 things that you may not know about your Prime Minister so you'll get to know him better. Here they are.

He is the eldest son of the former Canadian Prime Minister, Pierre Trudeau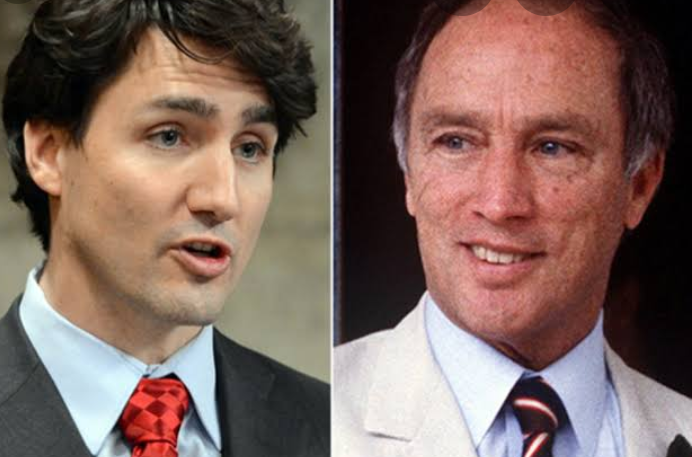 Mr. Trudeau was born on December 25th, 1971. He's the eldest among the former prime minister's three children and the first son of a prime minister to become a prime minister.
He was born in Ottawa, Ontario, Canada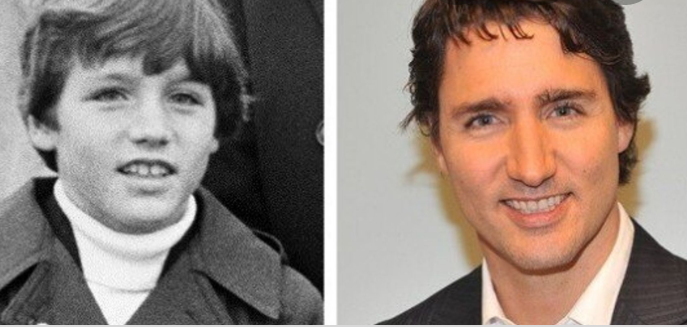 Prime Minister, Justin Trudeau was born in Ottawa, Ontario to parents Pierre Trudeau and Margaret Trudeau. He is the first Ottawa-born prime minister in the history of Canada.
His Wife is his Childhood friend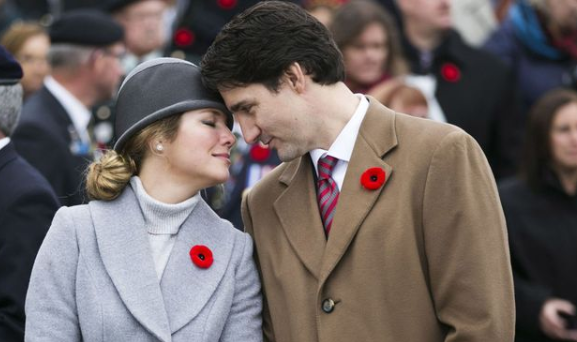 The prime minister's wife; Sophie Trudeau is a childhood friend of the prime minister. She was a primary school classmate of his younger brother. The two have been friends ever since and they got married in 2005
He is Canada's Second youngest Prime Minister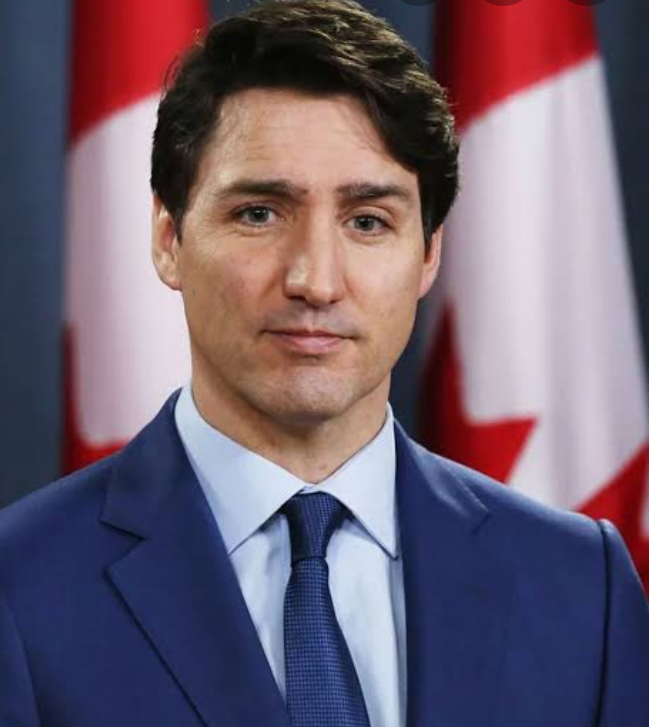 Prime Minister, Justin Trudeau is just 43 years old and this makes him the second-youngest Canadian Prime Minister. The youngest prime minister in the history of Canada is Joe Clark who assumed office at the of 39.
He was a School Teacher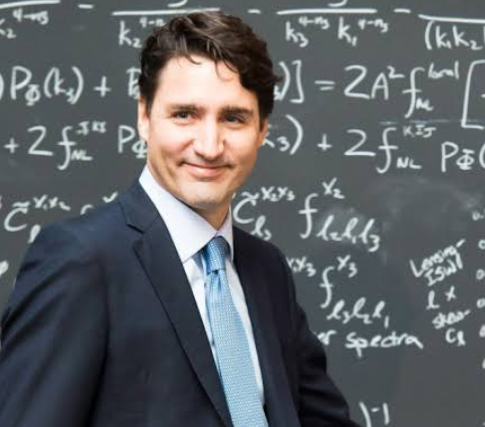 He started his teaching career after he finished from the University of British Columbia (1998) with a degree in Education. He taught Math, French, Humanities and Drama. He was adored by his students because he was genuine and nice to them

His Official Residence is His Childhood Home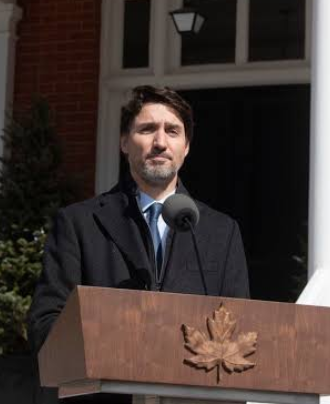 When Justin Trudeau was born, his father was already prime minister and so, he grew up in Sussex, Ottawa, the official residence of the prime minister. Now that he is the Prime Minister, he lives there.

He has Three Children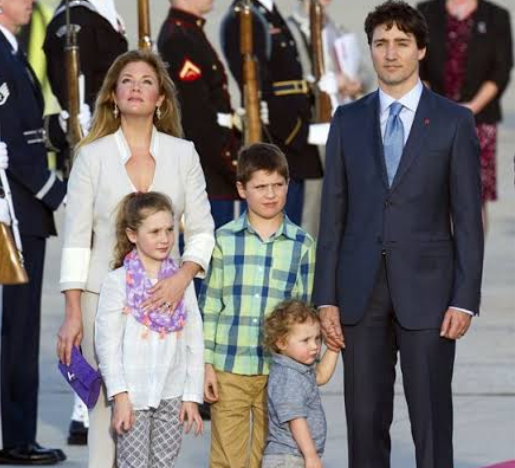 He and his wife wedded in 2005 and they have 3 beautiful children. The oldest is Xavier James (2007), the second youngest is Ella-Grace Margaret (2009) and the third youngest child is Hadrien( 2014)

He was born a Roman Catholic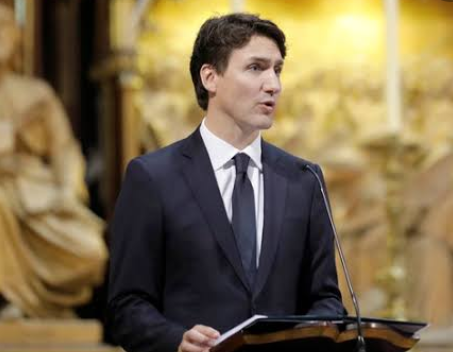 Mr. Trudeau identifies as a Roman Catholic. He holds dear his faith and also sees the goodness in other denominations too.

He has Two Tattoos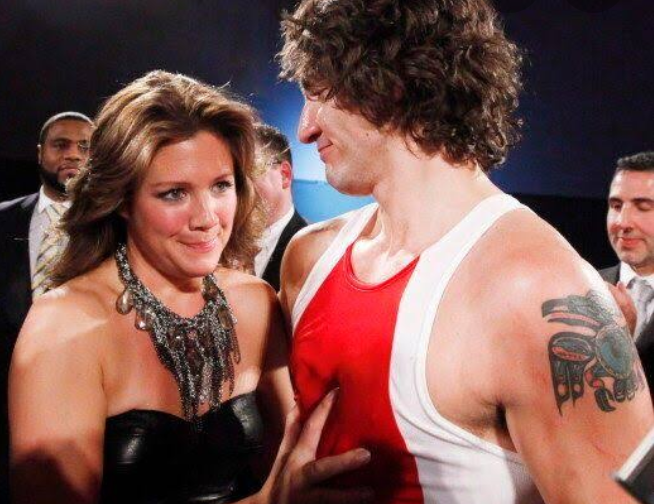 Prime Minister, Justin Trudeau has two nice tattoos on his body. The first is a tattoo of the earth on his left shoulder and the second is a tattoo of a raven in a Haida Indian pattern. He got the second tattoo when he was 40 years old.

He was an Actor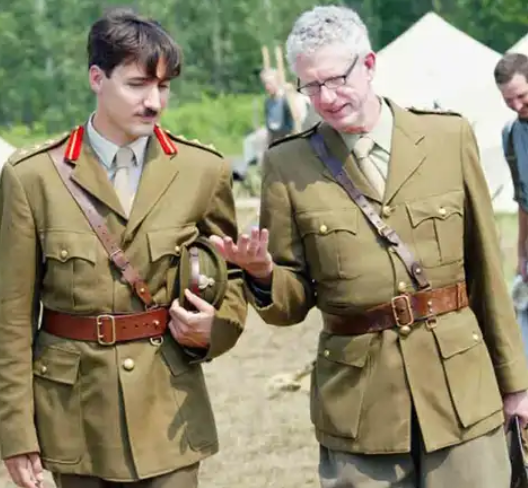 In 2007, he starred as Talbot Papineau in the CBC documentary/drama; The Great War. He had to grow a mustache for the movie and he definitely played his role well.
Conclusion
O Canada, our home and native land
True Patriot live in all of us command
With glowing hearts we see thee rise …
Video of A Father & Son In Tim Horton's Drive-Thru In A Mini-Car Goes Viral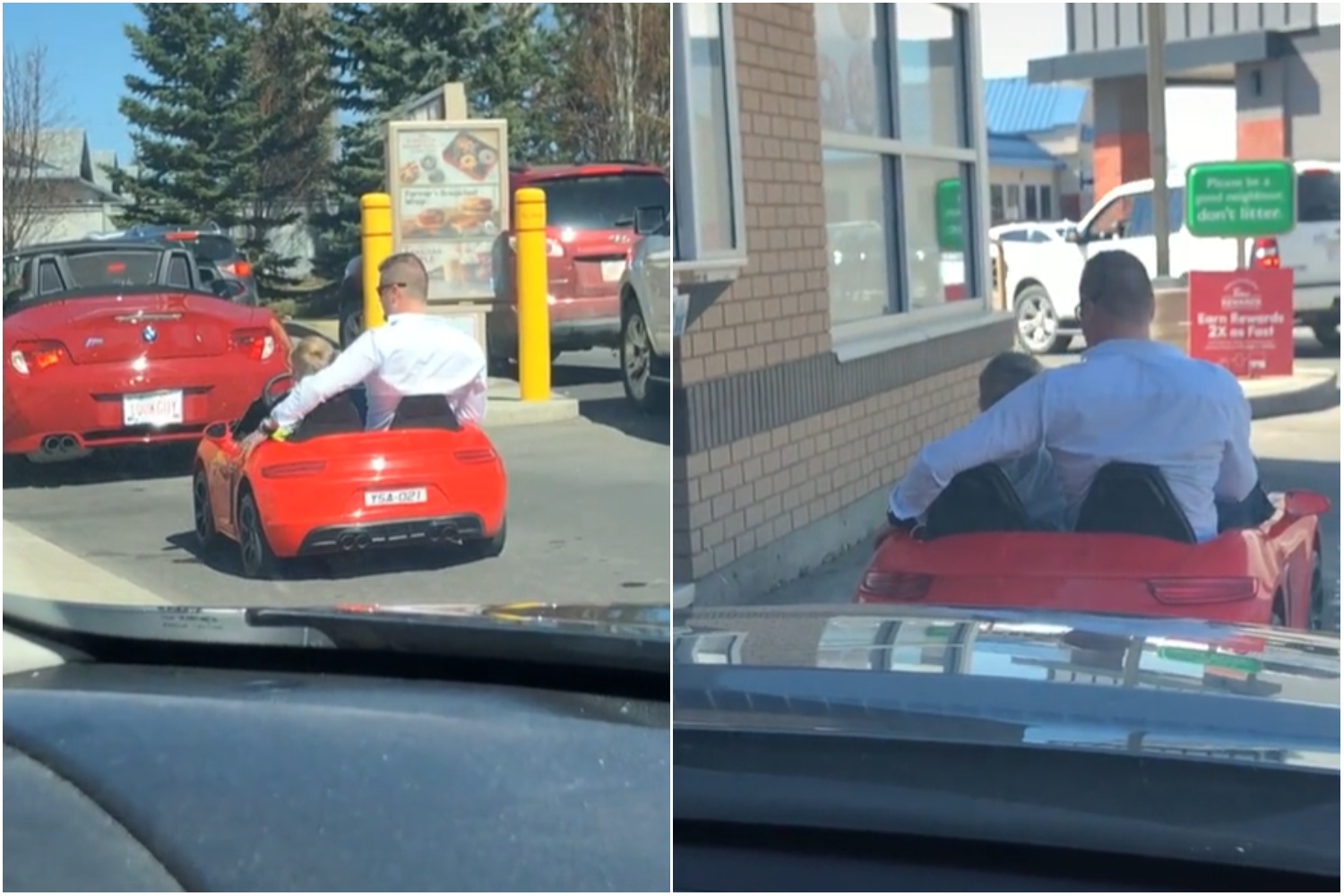 Ready for your daily dose of wholesome content? Tik Tok-er E. Mercades caught probably the cutest video we've ever seen while waiting in line at an Alberta Tim Hortons drive-thru.
The video is only seconds long but shows what we're assuming to be a father and son powering through the take-out line in a luxe mini-vehicle, and it has us in tears.