Top 10 Patios in Toronto to Hangout
It's that time of the year again !!! That heavenly summer season that comes with so much to feed your eyes on and relax. What better place to have a beautiful view of your favorite scenes and moments than in one of the top 10 patios in Toronto. With a chilled drink in hand, let's check them out
Lavelle 627 king Street West, Toronto.
I love roof top patios because of its bird view. If the CN tower is your favorite spot, then you should visit this patio for an incredible view. It also has an appreciative view of their poolside in blue cabanas.
Kasa Moto
115 Yorkville Avenue

It has a very comfortable and homely setting. It is mostly popular for its cocktail, sky bar, Japanese cuisine, and its unique atmosphere. You can also get a view of the CN tower from this patio.
Amsterdam BrewHouse
245 Queens Quay West.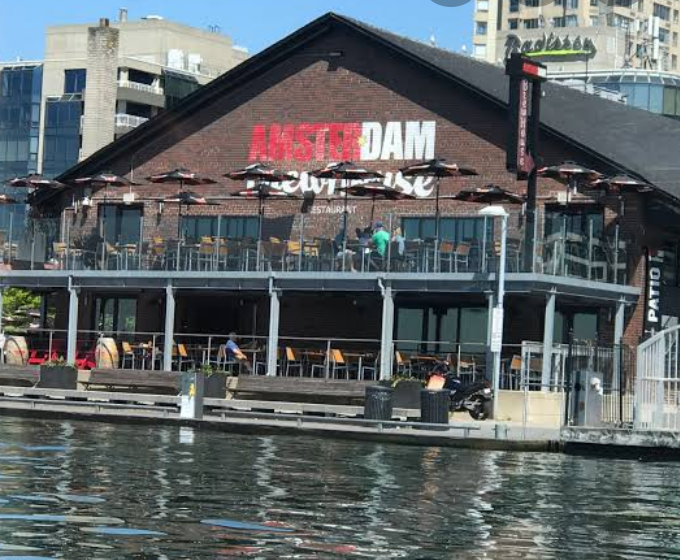 Having 3 amazing big sized patios with one overlooking a lake is no joke at all. Popularly know for its brew
and beer-infused menu, it is a relaxation spot for lovers of beer and locally made brew.
Kost
80, Blue jays way, 44th floor, Toronto.

This patio presents a wonderful rooftop view of Toronto. Sitting at the very top of Bisha hotels, this patio also doubles as a restaurant and has outdoor seating where you can get a view of the CN tower and the infinity pool.
Against the Grain
25 Docksides Drive.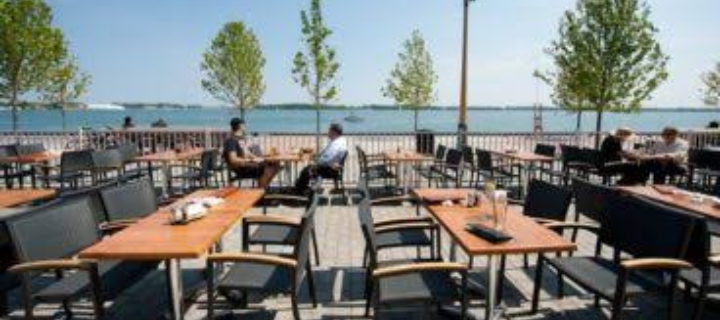 Looking for a classy restaurant with enough room for everyone? Against the grain is your best bet. It has a lounge seating, fire pits and can comfortably accommodate 170 people, providing a heavenly view of Toronto Island and the beautiful lake Ontario.
Gusto 101
101, Portland Street, Toronto.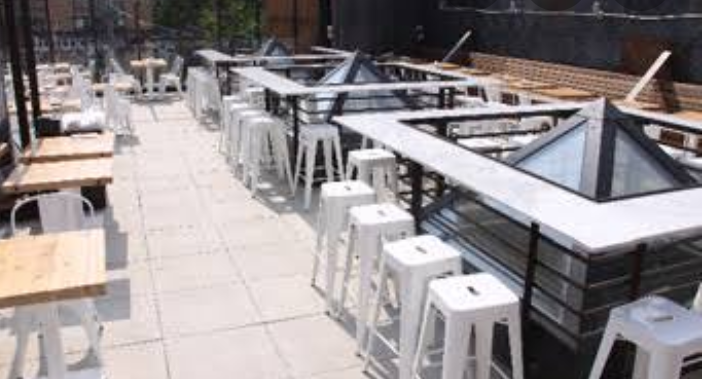 Gusto101 boasts of the highest outdoor patio in Toronto. It has two patios, one at a street level and a rooftop patio with a glass ceiling . It serves delicious Italian food and has a very relaxing feeling to it's setting.
The One Eighty
55 Broad street West.

it boasts of two rooftop patios on the51st floor of the Manulife Centre with stunning views of the CN Tower. It serves tasty food and specialties as its brunch on Sundays from 11 am to 3 pm.
Thompson Hotel
550 Wellington street West.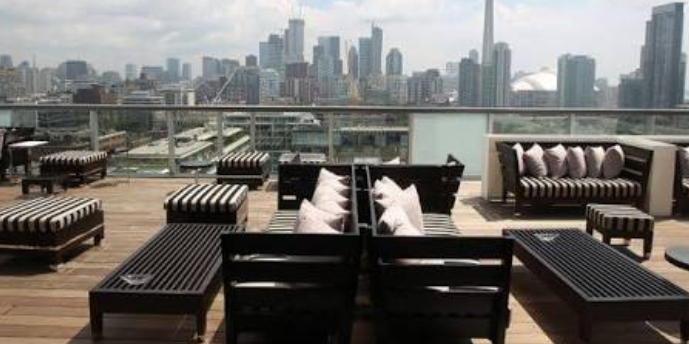 This place has a heavenly feeling and an incredible view because it is located in the heart of the city. It proudly boasts one of the city's most beautiful infinity pools and a very calm environment. This patio is exclusive to people who have membership cards or a hotel room.
The Gaarden
314, Queen Street West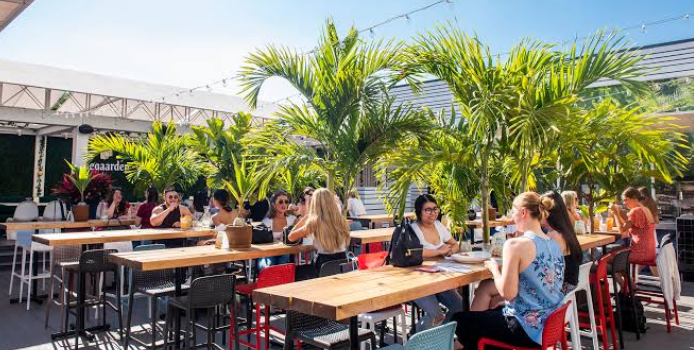 This spacious rooftop garden patio is softly covered with green life. It is usually open at 4 pm and is located in the heart of the financial district. It is the perfect getaway after a hectic day at work.
Assembly Chef's Hall
11 Richmond street West, Toronto
This majestic place has an outdoor patio that is an extension of the assembly Chef's hall. Located in the financial district, it has a large space that can hold a capacity of 300 people. It boasts of 17 finest chefs in Toronto and is open from 11 am to 10 pm, Mondays to Saturdays.
Five Things To Do In Ottawa This Summer
Ottawa, among the busiest cities in the world, is a multicultural place and also a travelers' paradise. Known for its festivals, activities, and various other events; this city lights up during the summer. We have made a list of activities that you must definitely engage in the next time you visit here. Explore the best things to do in Ottawa here.
Check Out The List Of Things To Do In Ottawa!
Well, your search ends here! We have picked the list of best things that you must try in Ottawa this summer. Scroll now!
Outdoor Fairs
The clear skies and sunshine are the perfect excuse to check out the outdoor fairs in this city. You can go to many fairs that take place in the city like The Capital Fair. It includes a petting zoo, water sports show, concerts, and other activities during this season. Be it vintage clothing, local souvenirs, or great food to the brightly colored flowers; these fairs of Ottawa offer an amazing experience which you will never forget
Perform yoga at the Parliament Hill
All you need is a yoga mat, sunscreen, and some water and you are golden. You will get a rare opportunity here to perform yoga right in front of the Parliament Hill lawn. Nothing can get better than this especially with the warmth of the sun's rays making your day even more exhilarating and bright.
Music Festival
Summer is the perfect time when the music aficionados come out with their guitars, drums, and other musical instruments. Ottawa is known for some of the biggest music festivals in the world, especially during the summertime. Since Canada is a multi-ethnic and multi-cultural nation, you will get to hear the sounds and voices of different cultures and languages. They all amalgamate together during these festivals. You will get to hear both local and international artists of repute. Along with the most popular festivals during summer is the RBC Bluffest that is held every year in June-July.
Outdoor Markets
One of the most popular in Ottawa is the outdoor markets that come here during the summer. With a number of markets for food, clothing, and other stuff available at a cheap bargain, it is one of the best places to be frequented by one and all. It is both a local farmer's market and a place for artisans to sell their artwork. These markets are extremely popular among tourists and businesses alike. So if you are planning to come to Ottawa then you must spend some time here and buy souvenirs that would be a good way to remember this trip as.
Art Festival
A city known for its enthusiasms and interest when it comes to art, Ottawa has several art galleries where annual festivals are held with much pomp and fanfare. Check out the Ottawa Art Gallery as has a really wide-ranging collection of Canadian and international art. Plus then you can enjoy the authentic feel of Canadian art while basking in its ambiance and history.
Conclusion
Ottawa has undoubtedly become one of the cultural hubs of the world because of its multi-cultural outlook. It is a city that reveals its vibrant colors, especially during the summer season. There are just too many activities that happen during this time of the year. While it may not be possible to be a part of them all, we strongly recommend that you check out the places mentioned in this list before you leave Ottawa.
Best Places To Learn Ice Skating In Toronto
Skating season in a place like Toronto gets super busy especially with the onset of winter. First-timers always need some time and practice to master this sport and as such we have come up with a list of the best places to learn ice skating in Toronto so that they can have the opportunity to learn everything they want about the sport, regardless of what their skill level is.
Know The Best Ice Skating Places In Toronto
Are you planning to learn ice skating in Toronto? If yes, you are in the right place. Check out the best ice skating places that will make you learn in the best way.
Harbour Front
Harbour Front has over 100 programs for beginners as well as novice Ice skaters which will help you sharpen your skills. Located near the Natrel's outdoor lakeside rink, it has everything you need including facilities like rental gears, heated change rooms, and lockers. It runs programs for skaters across all age groups apart from giving specialized private lessons. However, there can be cancellations due to weather-related causes since it is an outdoor rink.
North Toronto Skating Club
Located within the boundaries of a massive park near Yonge and Eglinton, the North Toronto Skating club is known for training beginners for a lifetime in ice skating. It trains rookie skaters across ages however their programs might be a bit expensive. They not only train you well also allow you to participate in several competitions to hone your skills in this sport. They also provide private lessons but only if you are a member of the club.
Breakaway Skating Institute
Breakaway Skating Institute is certainly among the best places to learn ice skating in Toronto. It provides you the chance to get accustomed not only to ice skating but also to other sports of similar nature. They provide group classes for all age groups in their two skating rinks which allow multiple people to use their facilities.
Forest Hill Figure Skating Club
The Forest Hill Figure Skating Club specializes in training its patrons on figure skating, allowing skating enthusiasts to register for fall/winter classes as well as year-round camps. They provide group lessons as well as private training across age groups at reasonable rates.
Seneca College
Seneca College allows beginners across all age groups to take an introductory program on skating at very affordable rates. The best part about their training program is that they offer a chance for those interested in the sport to train and sharpen their skating skills at two massive sports training facilities.
Future Stars Arena
This arena is certainly one of the best places to learn ice skating in Toronto with 5 massive rinks, They offer private and group classes for all age groups to allow rookies to get a grip of the sport at rates that may not be dirt cheap but are pretty reasonable.
Conclusion
Toronto is among the best cities for ice skating enthusiasts. Learning Ice skating can be a learning as well as a fun-filled experience if you are able to find a good training institute with the right set of trainers to start your love affair with the sport. Pick one of the best places for ice skating in Toronto now!
Best Dental Clinics In Ottawa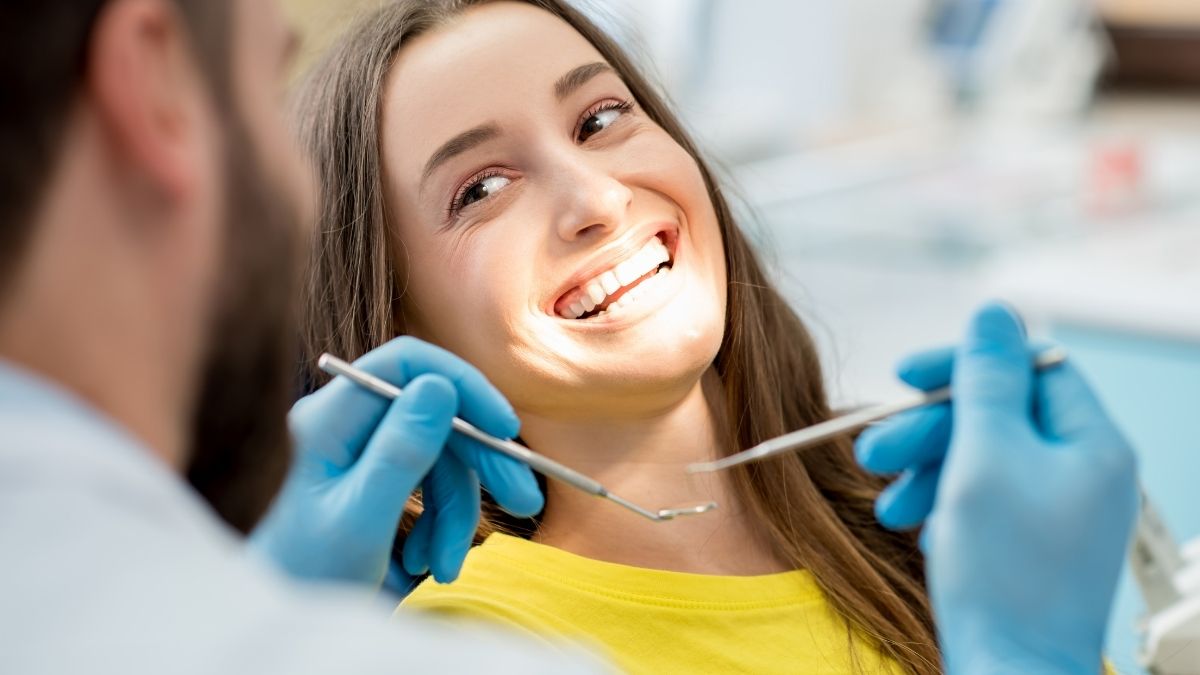 People might say that Dentist is not the same as a doctor but that's simply not true. Finding the right dentist in a place like Ottawa can be a challenge. This is because there are so many options to choose from. However, based on customer reviews we have compiled a list of the best dental clinics in Ottawa.
Know The Best Dentists In Ottawa
Are you suffering from any dental problems? If yes, this is the list of best dentists in Ottawa that are well trained and experiences. Without further ado, Let's get started!
McAllister Dentistry
McAllister Dentistry is a foremost provider of dental care in Ottawa with an experienced team of compassionate and understanding professionals who can help even the most distressed and anxious patients. They provide total transparency in a relaxed and calming environment which helps to alleviate any doubts related to the procedure.
Chapel Hill Dental
Chapel Hill Dental is one of the best dental clinics in Ottawa. They have a continuous tradition of providing outstanding dental care and hygiene. They believe in having a personal connection with their patients is just as significant as employing the latest skills, techniques, and equipment in resolving issues related to their dental health. The team at Chapel Hill Dental strives to make the experience of their patients as stress-free as possible.
Capital Periodontics
Capital Periodontics was established in 2008 for serving the metropolis of Ottawa and nearby communities. They specialize in various dental procedures like placement of dental implants and treatment of periodontal diseases, like periodontitis or gum recession. They always advise their patients to stay alert about any concerns with their teeth and gums and to contact them for frequent checkups.
Aqua Dental
Aqua Dental offers comprehensive dental care along with providing preventative, restorative, and cosmetic dentistry. Patients are always their top priority. They always give personalized attention and build long-term relationships with their clients which certainly makes the best dental clinics in Ottawa.
Dr. Robert Jack
Dr. Robert Jack is a well-known dentist specializing in various dentistry-related procedures for all kinds of the tooth and gum-related ailments. They always focus on educating their patients to take care of their dental health as that itself reduces the chance of having too many ailments. But they also employ their medical and technical know-how to resolve most, if not all, of your dental issues.
Florence Dentistry
Whether patients want cosmetic enhancements to make their teeth look good, a crown to prevent tooth decay, or even a bridge to replace their missing teeth, Florence Dentistry is capable of meeting those demands. They provide their undivided attention and clinical expertise to their patients to ensure that no one goes out of their clinic without having their dental aliments resolved.
Conclusion
A good dentist is someone who is able to meet their dental care and hygiene needs on a regular basis while being light on their pocket. A reliable dental specialist can prove to be a lifesaver for their patients. So this list should help you in their search for the best dental clinics in Ottawa.